GemVoucher / Gem Voucher email delivery
Easiest Way To Spend Online Using Prepaid Gift Voucher
How does it work?
Using Gem Voucher is simple and safe
Buy Vouchers. Available amounts: 10, 20, 50, 100 USD/EUR/GBP
Pay online by simply entering the 16-digit voucher code and 6-digit PIN.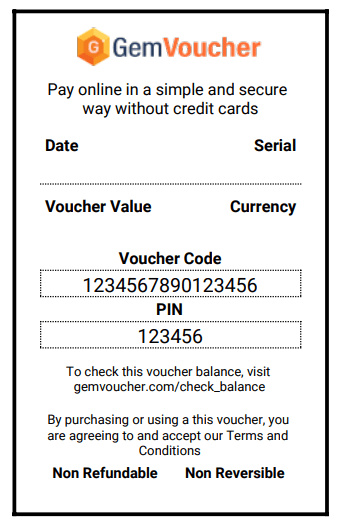 Why choose Gem Voucher?
Safe & Secure – protect your money from online fraud through advanced and secure technology. We work with verified merchants only.
Instant & Everywhere – Simply buy your Gem Voucher from a range of retailers and then use it to pay online at websites accepting it.
100% Risk-Free – No need for bank accounts or for sharing sensitive credit card information. GemVoucher is secure and chargeback-free.
How to check balance?
Open this link https://gemvoucher.com/check_balance
Enter your voucher code, PIN, select currency and click the "Submit" button to check balance.
You can pay for gem voucher with Bitcoin, credit card or local payment options.